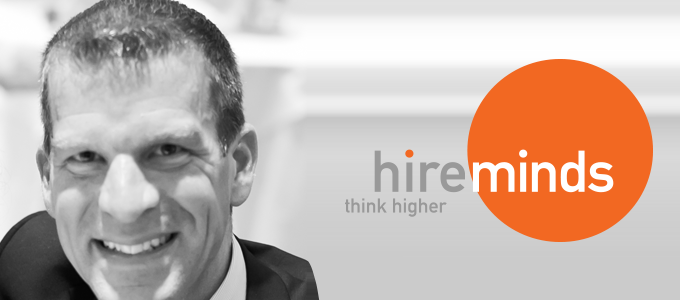 In the run up to BullhornLive 2013 we take time out to speak with customer David Hayes from Hireminds about how his team uses Ebsta and the difference it's made to sales productivity.
Hi David, what sparked your interest in Ebsta?
Our sales force like every other sales force dislikes administrative work. We found that users were not building our database of client contacts at the pace we expected, due to the amount of admin work required.
In addition, the resumes stored in our database were not being updated frequently. This had a negative impact on the quality of search results we were able to run in Bullhorn.
What has your experience been of using the Ebsta Chrome plugin as opposed to basing all your online research in Internet Explorer?
Many users prefer the speed and ease of use of Chrome vs IE, and Ebsta has been a great way to bridge that gap. Using the IE Chrome tab in conjunction with Ebsta, recruiters can now get almost everything they need about a candidate or a contact without ever leaving Chrome. Previously, recruiters would be clicking back and forth between Linkedin (or Indeed.com) in Chrome and Bullhorn in Internet Explorer, spending a lot more time trying to figure out if someone was already in our database, and whether or not they were owned by another recruiter.
What, in your view, are the three main benefits of using Ebsta for Bullhorn?
The number of Business Development calls have increased by 23% since implementing Ebsta. This is due in large part to the ease with which Search Consultants can create new Contact and Company records using Ebsta. The time that it takes to enter a new candidate or contact into the Bullhorn database has been reduced by over 50%.
Ebsta brings critical information on candidates and contacts to the forefront, when Search Consultants are using one of the supported Ebsta websites like Linkedin or the Indeed.com resume database. Users are now driven to view legacy Bullhorn data and information about a contact or candidate with the click of a button, enabling them to make a much quicker and informed decision about whether or not to contact that individual.
The ability to search the entire Bullhorn database directly from the Chrome ebsta window allows users to get the information they are looking for more quickly than ever, and enables them to update records in a fraction of the time it took previously.
How would you summarise your experience with Ebsta?
Ebsta has really been a terrific addition to our toolkit here at HireMinds and specifically addressed business challenges we had. We have already landed new clients as a direct result of having Ebsta installed. Because it is so easy to add contact records into Bullhorn and to queue them up on a task list for calling, Search Consultants report making calls that they previously would not have made and making placements as a direct result of taking quick action on a broader knowledge set.
New HireMinds Search Consultants who have started AFTER Ebsta was installed have no idea how we could have functioned without it previously. Sort of like using a cellphone in the pre-smartphone era. Once you have one, you can't imagine a world without it.
With Ebsta a formerly cumbersome process is now super simple, and as a consequence we have become more effective and productive.