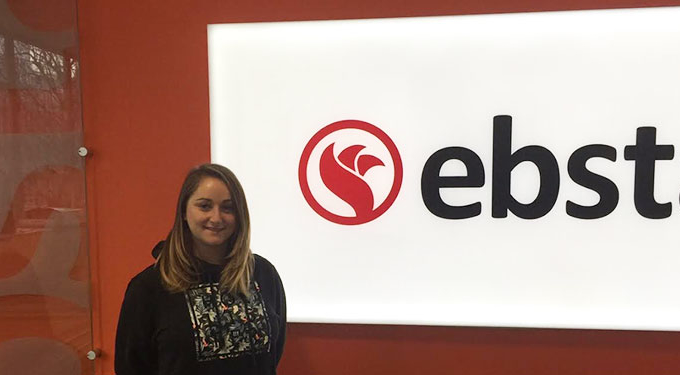 Brooke Weinberg is 22 and manages our Ebsta for Bullhorn sales. What she lacks for in old age, she makes up for in fierce, unadulterated passion for selling. Some say she's a force to be reckoned with and here at our Ebsta Headquarters in Central London, we definitely believe that she is the rising star in sales.
Joining Ebsta at 18
I was fresh out of college and looking for a job with an immediate start. Like any young person, I wanted to start earning money but I wasn't the typical 'academic' and I didn't enjoy studying. Armed with my NVQ in make up, I knew it was going to be a struggle.
I interviewed for Ebsta knowing I had a lot to learn but also knowing that Ebsta was the place that I wanted to do just that.
With my lack of experience, I had to sell myself through my personality and prove that I was determined and dedicated to helping the business grow and expand. Luckily, the CEO Guy Rubin, saw potential in my people skills and offered me a job as a Tester for all of the implementations. I knew instantly that this wasn't my calling so I was soon moved to help the Support team. As soon as our now VP of Sales Oliver Squires heard me pick up a phone, he said 'You sound like a salesperson, you should be selling' so I did just that. I joined the sales team and fell head over heels in love. My affair with sales has lasted quite a while now…
Early Challenges
Much like anyone starting a new career, I had a lot to learn. I was unconfident and I needed to improve my knowledge of CRM and the Ebsta tools. So I went home every night and pitched to myself in front of the mirror, pitched to my friends on the phone, recorded myself pitching – anything I could do to improve, I was doing it. When it came to the Ebsta tools, practise makes perfect so I dived headfirst into using it and familiarised myself with all the features over and over again.
Once I had overcome the initial challenges, the monthly sales targets hit me. At first, they were daunting but as I learnt very quickly, they give you something to work towards. If you don't hit them, it's not the be all and end all because you discover what you need to improve on and it gives you a chance to re-evaluate ready for the next month.
The Thrill of Sales
Learning how to be a Sales person required me to listen and take in what my mentors were saying to me. With our open plan office, I was and still am, able to have access to everyone which is such an amazing learning experience. Getting to see and take in insight from Tech through to Marketing and Customer Success is hugely rewarding.
As I sat amongst everyone at my own desk, hearing and seeing everyone on the phone gave me a huge buzz that's completely infectious. It made me want to get on the phone and engage with people over and over again. For me, there's nothing better than being deep in conversation with a prospect and being able to provide them with solutions to their problems.
Self-Improvement
Throughout my years at Ebsta, I have learnt to perfect my sales technique. The more confident you are on the phone, the more likely you are to get past the gatekeeper. Being personal and familiar is key because I'm not just a salesperson, I am someone you can trust. Building a rapport with our customers is top of my agenda because I'm not just interested in selling to them, I'm interested in them. I ask how their day has been, their recent holidays, their partners, babies, you name it, I've had the conversation.
It's also important to remember that knowledge is everything; if you know what you're talking about, you're not selling something, you're giving them value in what you're saying.
The American Dream
Working for a company that gives you added responsibility is scary but exciting. I flew to Boston alone for Bullhorn Engage when I was 21 and I had the time of my life. I got to meet all the customers I've been speaking to for years like Polly from recruitment company Profiles and we gave each other a really long hug! It was great to network and pitch our products in front of hundreds of people which is an experience that many people don't have until their latter years.
Young and Driven
I see being the youngest person in the office as a positive thing because it means I'm ahead of the game. I'm moving closer to achieving my ultimate career goal earlier than a lot of other people which I'm extremely thankful for but something that you don't get without hard work.
The advantages of being a young Sales Manager is that I earn a good salary in comparison to many other people my age. I work for a company that has allowed to me to grow, improve and continue to learn every single day. I still ask hundreds of questions now because I want to know the answers to things – I want to constantly develop.
If I was to give young people who are looking to start a career in sales advice, it would be to throw yourself into it – don't be afraid. Don't think that your age determines what you can achieve because it doesn't but you have to be willing to fail and learn from those failures. Pick yourself up, always be yourself and show off that unique personality.
Managing a Team
I now manage a team which is as much of a learning curve for me as it is for them! I remember what it was like to first start out in sales so I'm patient, understanding and dedicated to getting my team to Account Management level. I have a training structure in place whereby the whole team can listen in on my calls, watch my meetings, have pitching practise sessions with me and complete some homework. I also enjoy throwing in a quiz or two because it's a great excuse to get out the sweets and award them to the winner!
Sales Goals
Being surrounded by like-minded, driven individuals urges me to strive for more – the sky isn't the limit here. I want to continue to learn, help support my BDRs to Account Management level, grow my skillset and continue to grow our Ebsta for Bullhorn customer base.
Starting my sales career in my teenage years was daunting and I was a complete rookie but I was a sponge to information and now I am well on my way to helping Ebsta grow and achieve all our ultimate goals.
Brooke's hard work at Ebsta hasn't gone unnoticed, here's to the rising star in sales.
To see the Ebsta for Bullhorn tools for yourself, check out Ebsta for Chrome, Ebsta for Outlook and Ebsta for Word.