Our feature of the month for May is our highlight search! A fantastic time-saver and efficient way to identify if someone is in Bullhorn, you should all be utilising this feature to maximise your productivity.
If you've never used it, don't panic. We've put together a quick and easy step-by-step guide on how to start using it now:
The best part of it all? You can be anywhere on the web and use it (as long as you're logged into Ebsta).
Take this example. If you were on the Ebsta About Us page (which is a great place to be), this is how you would use it: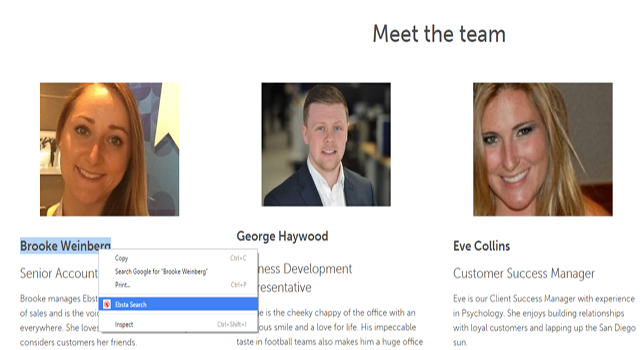 Simply highlight the person's name (it always works if you highlight a company name or email address) that you're looking for and right click. You'll then see 'Ebsta Search', click that and you're well on your way!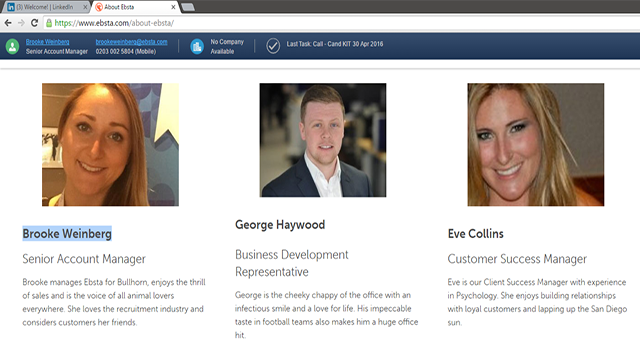 Ebsta's blue bar will then drop at the top of your screen and show you if that person exists in Bullhorn.
Luckily in this example, Brooke Weinberg does exist but if she didn't? Scoot on over and click the Ebsta icon in the top right hand side of your screen.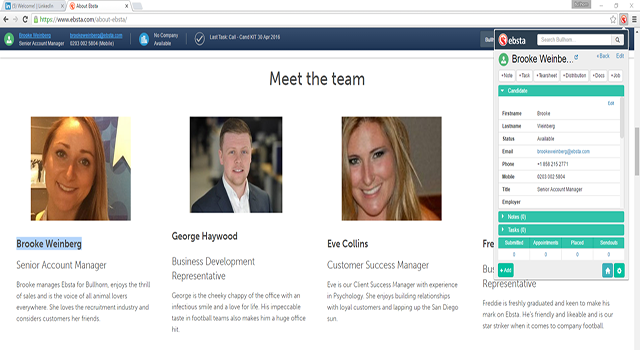 And you can add Brooke as a candidate, contact or company record. Ultimate recruitment bliss!
This is just one of the amazing features that you can tap into when using Ebsta. Stay tuned for June's feature of the month!