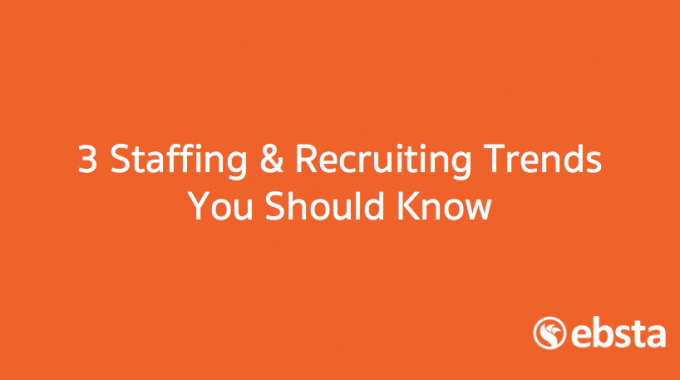 The competition for attracting top talent has been heating up over the years. This shouldn't come as a surprise since job-hopping has nearly doubled in the last 20 years. Candidates in the Millennial generation in particular have a reputation for job-hopping with 60% of millennials being open to new job opportunities. As a human resources professional, there are three staffing and recruiting trends that you should know to stay on top of your game: hiring volumes are increasing, operational efficiency is a priority, and technology investments are on the rise.
Check out the top three staffing and recruiting trends for 2017 or start a free trial of Ebsta for Bullhorn today.
1.) Hiring Volumes are Increasing
According to LinkedIn's latest Global Recruiting Trends Reports, 56% of leaders say that their team's hiring volume will increase. Thus, you will have to keep track of more candidates for each job posting. The highest increases will take place in India (76%), Mexico (67%), and South East Asia (62%).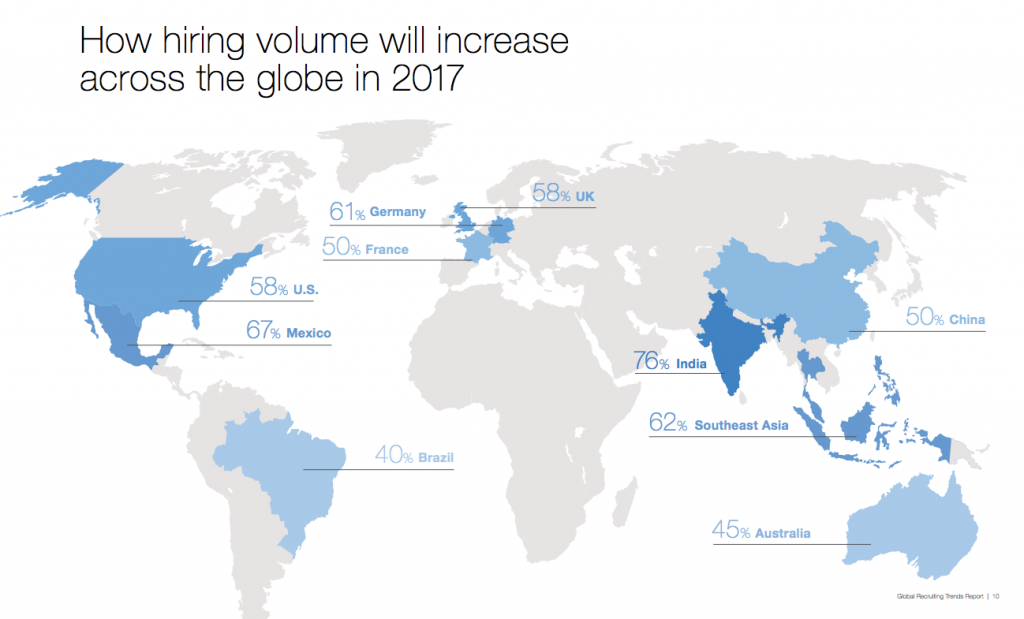 The main success measure talent acquisition decision makers are focusing on are how long a new hire stays at the company, hiring manager satisfaction, and time to fill. Trying to decrease the time to fill an open position brings us to the next trend: prioritizing operational efficiency.
2.) Operational Efficiency is a Priority
The Staffing Business Intelligence Report by CloudCall and cube19 reveals that staffing and recruiting agencies want to prioritize growth and improve operational efficiency in 2018. About 32% of agencies surveyed identify their business processes as the biggest barrier to growth. The majority (87%) of respondents looking to improve efficiency think better processes would aid this. With over half of agencies (56%) losing time to reporting each month, there is clearly opportunity for improving processes related to data reporting and performance tracking.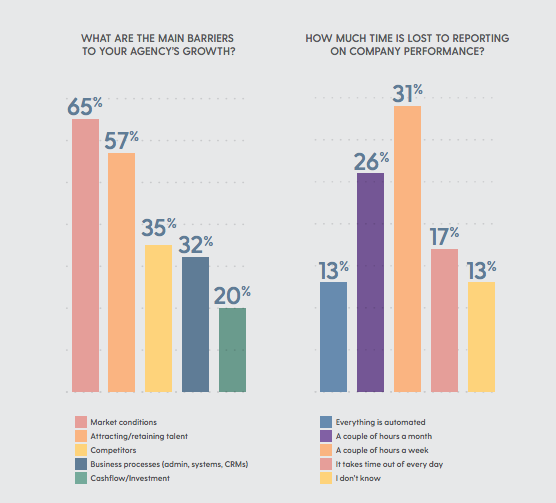 So how are you going to get there? Well, 78% of recruiting agencies that are looking to scale operations agree that partnering with technology is the key, which is the third trend to know.
3.) Technology Investments are Rising
In order to handle a higher volume of candidates, improve operational efficiency, and maximize revenue margins, firms will need tools that will save time and ensure accurate data on candidates. In North America, technology adoption is already high; 64 percent of staffing firms use an Applicant Tracking System (ATS) to track candidate activity and 60 percent use a Customer Relationship Management (CRM) system for business development according to Bullhorn's 2017 North American Staffing & Recruiting Trends Report: Above and Beyond Business as Usual. However, an ATS and CRM on their own is not sufficient. Recruiters need those systems integrated with the job boards where they spend their time as well as their email inbox. Ebsta integrates Bullhorn with Outlook, Microsoft Word, and your favorite Job Boards to quickly ingest candidates profiles, manage Bullhorn from anywhere on the web, and save time with automation.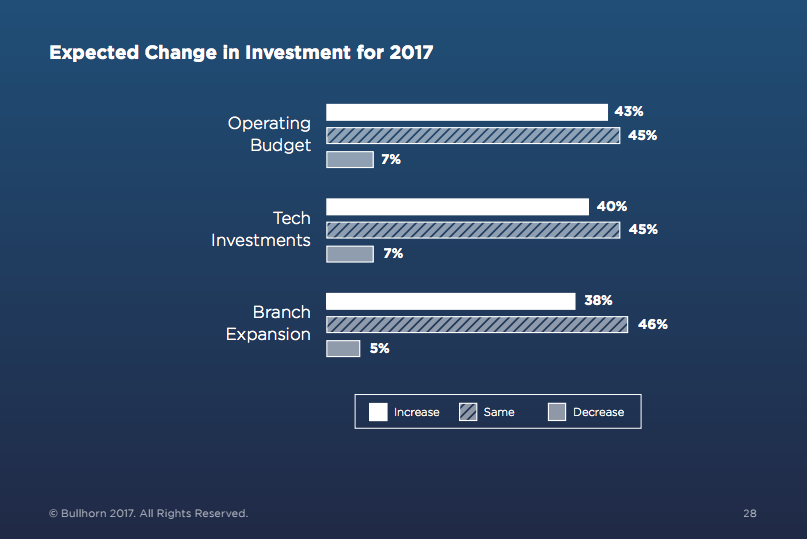 Are you ready to supercharge your recruiting efforts to stay on top of these staffing and recruiting trends? Then start a free trial of Ebsta for Bullhorn today.